Day Services at Savannah Grand of Amelia Island
Savannah Grand of Amelia Island is glad to offer Adult Day Care for Amelia Island's Seniors. Day Programming is perfect for seniors who need a little socialization during the day! Generally available 7 days a week, Savannah Grands Adult Day Care Programs are a great alternative to staying at home! They are also a great worry free glimpse into the LIFE at Savannah Grand for prospective residents.
Learn more about our respite program and our Day Services today.
Contact us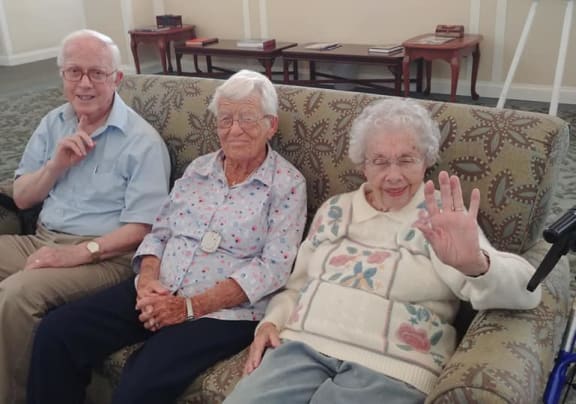 The Grand Day Program
Join our Assisted Living residents for a 4-6 hour day including two meals. The Grand Day Program is designed for a more independent senior looking for an activities and entertainment program. Day Service is designed to support both residents and their caregiver families that may have alternate or conflicting career, family or educational responsibilities and obligations. Day Service offers a daily environment change for residents with full services to include activities, entertainment, meal and snack services, companionship and even Personalized Services. Many comfortable resting spaces are available at Savannah Grand for Day Service residents to utilize throughout the day.
The Cottage Day Program
Our Cottage Circle of Friends Day Program is designed for seniors living with dementia. Day Program residents spend their time in our lovely Cottage program led by certified dementia practitioners with years of experience serving those with memory impairment.
The Cottage Circle of Friends program is intended to bring a sense of belonging, accomplishment and friendship to our guests.
Your Savannah Grand of Amelia Island professional is glad to review Day Service living options with you and answer any questions.
Testimonials
The staff here has gone far beyond the necessary to take care of my mom. They truly show love and concern for her and all the residents . They have done so many little extra things ... especially now with covid 19. Truly blessed knowing that she is well taken care of and loved!!

- LaDonna Wagner via GOOGLE
Although I have not had the opportunity to have a family member reside at this location, I have been there many times due to my experiences visiting and volunteering. The facility is pleasant, clean, and homey. The staff and administration clearly care for the residents, as I have observed many meaningful interactions with them. As primary decision-maker for my mother, who needed different levels of care for over 14 years (living outside of Atlanta), I have observed quite a few facilities and a

- Marjorie Meder via GOOGLE
My mom moved into Savannah Court in January 2016. Everyone have been wonderful acclimating mom and her dog. Mom seems stronger and appears much more content with her life. Her pets really seem happy! This is a great comfort to me as I reside out of state.

- Isabel Berly via GOOGLE